Expedition stuff not up until patch drops tomorrow, the torrent deliberately does not have that data.
Craiceann's Tracks
Boots
Armour:
177
Requires Level
54
,
95
Str
(150–180)

% increased Armour


+(50–70)

to maximum Life


+(25–30)

% to Cold Resistance


25

% increased Movement Speed
Cannot be Stunned if you have at least 10 Crab Barriers
You only lose

(5–7)

Crab Barriers when you take Physical Damage from a Hit
When the land rose above the sea, The First of the Deep did not move.
When the sky turned to fire, The First of the Deep did not perish.
We must remember our place, and play to our strengths.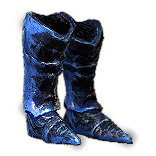 (150–180)

% increased Armour
(150–180)

% increased Armour
Group
DefencesPercent
Domains
Item (1)
GenerationType
Unique (3)
Req. level
1
Stats
local physical damage reduction rating +%

Min: 150

Max: 180

Local

Craft Tags

defences
+(50–70)

to maximum Life
+(50–70)

to maximum Life
Group
IncreasedLife
Domains
Item (1)
GenerationType
Unique (3)
Req. level
1
Stats
base maximum life

Min: 50

Max: 70

Global

Craft Tags

resource

life
+(25–30)

% to Cold Resistance
+(25–30)

% to Cold Resistance
Group
ColdResistance
Domains
Item (1)
GenerationType
Unique (3)
Req. level
1
Stats
base cold damage resistance %

Min: 25

Max: 30

Global

Craft Tags

elemental

cold

resistance
25

% increased Movement Speed
25

% increased Movement Speed
Group
MovementVelocity
Domains
Item (1)
GenerationType
Unique (3)
Req. level
1
Stats
base movement velocity +%

Min: 25

Max: 25

Global

Craft Tags

speed
Cannot be Stunned if you have at least 10 Crab Barriers
Cannot be Stunned if you have at least 10 Crab Barriers
Group
CrabModifiers
Domains
Item (1)
GenerationType
Unique (3)
Req. level
1
Stats
cannot be stunned if you have 10 or more crab charges

Min: 1

Max: 1

Global
You only lose

(5–7)

Crab Barriers when you take Physical Damage from a Hit
You only lose

(5–7)

Crab Barriers when you take Physical Damage from a Hit
Group
CrabModifiers
Domains
Item (1)
GenerationType
Unique (3)
Req. level
1
Stats
number of crab charges lost when hit

Min: 5

Max: 7

Global
---