Voltaxic Rift
Bows
Physical Damage:
26-78
Critical Strike Chance:
6.5%
Attacks per Second:
1.4
Requires Level
64
,
212
Dex
Adds

1

to

(275–325)

Lightning Damage


(10–15)

% increased Attack Speed


60

% of Lightning Damage Converted to Chaos Damage
Your Chaos Damage can Shock


(Shock increases Damage taken by up to 50%, depending on the amount of Lightning Damage in the hit, for 2 seconds)




10

% chance to Shock
Shock Enemies as though dealing

300

% more Damage
Your Shocks can increase Damage taken by up to a maximum of

100

%
The eldritch storm descended upon us, and bruised lightning
rained down. Metal withered and flesh melted before its
arcane power. There was no escape, no shelter. Only despair.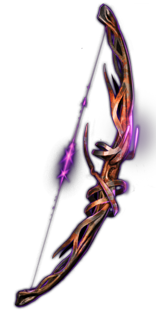 Adds

1

to

(275–325)

Lightning Damage
Adds

1

to

(275–325)

Lightning Damage
Group
LightningDamage
Domains
Item (1)
GenerationType
Unique (3)
Req. level
1
Stats
local minimum added lightning damage

Min: 1

Max: 1

Local

local maximum added lightning damage

Min: 275

Max: 325

Local

Tags

elemental_damage

damage

elemental

lightning

attack
(10–15)

% increased Attack Speed
(10–15)

% increased Attack Speed
Group
IncreasedAttackSpeed
Domains
Item (1)
GenerationType
Unique (3)
Req. level
1
Stats
local attack speed +%

Min: 10

Max: 15

Local

Tags

attack

speed
60

% of Lightning Damage Converted to Chaos Damage
60

% of Lightning Damage Converted to Chaos Damage
Group
ConvertLightningDamageToChaos
Domains
Item (1)
GenerationType
Unique (3)
Req. level
1
Stats
base lightning damage % to convert to chaos 60% value

Min: 100

Max: 100

Global

Tags

elemental_damage

damage

elemental

lightning

chaos
Your Chaos Damage can Shock
Your Chaos Damage can Shock
Group
ChaosDamageCanShock
Domains
Item (1)
GenerationType
Unique (3)
Req. level
1
Stats
chaos damage can shock

Min: 1

Max: 1

Global

Tags

poison

elemental

lightning

chaos

ailment
10

% chance to Shock
10

% chance to Shock
Group
ChanceToShock
Domains
Item (1)
GenerationType
Unique (3)
Req. level
1
Stats
base chance to shock %

Min: 10

Max: 10

Global

Tags

elemental

lightning

ailment
Shock Enemies as though dealing

300

% more Damage
Shock Enemies as though dealing

300

% more Damage
Group
WeaponShockAsIfDealingMoreDamage
Domains
Item (1)
GenerationType
Unique (3)
Req. level
1
Stats
unique voltaxic rift shock as though damage +% final

Min: 300

Max: 300

Global

Tags

elemental

lightning

ailment
Your Shocks can increase Damage taken by up to a maximum of

100

%
Your Shocks can increase Damage taken by up to a maximum of

100

%
Group
MaximumShockOverride
Domains
Item (1)
GenerationType
Unique (3)
Req. level
1
Stats
unique voltaxic rift shock maximum magnitude override

Min: 100

Max: 100

Global

Tags

elemental

lightning

ailment
---