Expedition stuff not up until patch drops tomorrow, the torrent deliberately does not have that data.
Frostferno
Helmets
Evasion Rating:
101
Requires Level
60
,
46
Dex
+2

to Level of Socketed Fire Gems


+2

to Level of Socketed Cold Gems
Socketed Gems are Supported by Level

30

Cold to Fire


(450–500)

% increased Evasion Rating


60

% increased Mana Regeneration Rate


+(20–30)

% to Fire and Cold Resistances
Embrace your burning ambition.
Embrace your frozen heart.
You will be transformed.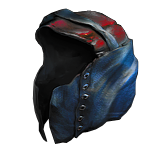 +2

to Level of Socketed Fire Gems
+2

to Level of Socketed Fire Gems
Group
IncreaseSpecificSocketedGemLevel
Domains
Item (1)
GenerationType
Unique (3)
Req. level
1
Stats
local socketed fire gem level +

Min: 2

Max: 2

Local

Craft Tags

elemental

fire

gem
+2

to Level of Socketed Cold Gems
+2

to Level of Socketed Cold Gems
Group
IncreaseSpecificSocketedGemLevel
Domains
Item (1)
GenerationType
Unique (3)
Req. level
1
Stats
local socketed cold gem level +

Min: 2

Max: 2

Local

Craft Tags

elemental

cold

gem
Socketed Gems are Supported by Level

30

Cold to Fire
Socketed Gems are Supported by Level

30

Cold to Fire
Group
DisplaySocketedGemsGetColdToFire
Domains
Item (1)
GenerationType
Unique (3)
Req. level
75 (Effective: 60)
Granted Skill
SupportColdToFire (Level 30)
Supported Skills have

50

% of Cold Damage Converted to Fire Damage
Supported Skills gain

39

% of Cold Damage as Extra Fire Damage
Stats
local display socketed gems get cold to fire level

Min: 30

Max: 30

Local

Craft Tags

gem
(450–500)

% increased Evasion Rating
(450–500)

% increased Evasion Rating
Group
DefencesPercent
Domains
Item (1)
GenerationType
Unique (3)
Req. level
1
Stats
local evasion rating +%

Min: 450

Max: 500

Local

Craft Tags

defences
60

% increased Mana Regeneration Rate
60

% increased Mana Regeneration Rate
Group
ManaRegeneration
Domains
Item (1)
GenerationType
Unique (3)
Req. level
1
Stats
mana regeneration rate +%

Min: 60

Max: 60

Global

Craft Tags

resource

mana
+(20–30)

% to Fire and Cold Resistances
+(20–30)

% to Fire and Cold Resistances
Group
FireAndColdResistance
Domains
Item (1)
GenerationType
Unique (3)
Req. level
1
Stats
fire and cold damage resistance %

Min: 20

Max: 30

Global

Craft Tags

elemental

fire

cold

resistance
---