Expedition stuff not up until patch drops tomorrow, the torrent deliberately does not have that data.
Farrul's Pounce
Gloves
Armour:
106
Evasion Rating:
106
Requires Level
59
,
45
Str,
45
Dex
(100–140)

% increased Armour and Evasion


+(50–70)

to maximum Life


+(400–500)

to Accuracy against Bleeding Enemies
Attacks always inflict Bleeding while you have Cat's Stealth


(Bleeding deals Physical Damage over time, based on the base Physical Damage of the Skill. Damage is higher while moving)




(40–50)

% increased Damage with Hits and Ailments against Bleeding Enemies


(Ailments that deal Damage are Bleeding, Ignited, and Poisoned)


You have Crimson Dance while you have Cat's Stealth


(You can inflict Bleeding on an Enemy up to 8 times, Your Bleeding does not deal extra Damage while the Enemy is moving, 50% less Damage with Bleeding)
A hungry beast wastes no energy.
Every strike, no matter how small, must work towards victory.
The First of the Plains teaches us
that the largest prey can still be whittled away.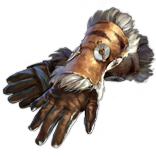 (100–140)

% increased Armour and Evasion
(100–140)

% increased Armour and Evasion
Group
DefencesPercent
Domains
Item (1)
GenerationType
Unique (3)
Req. level
1
Stats
local armour and evasion +%

Min: 100

Max: 140

Local

Craft Tags

defences
+(50–70)

to maximum Life
+(50–70)

to maximum Life
Group
IncreasedLife
Domains
Item (1)
GenerationType
Unique (3)
Req. level
1
Stats
base maximum life

Min: 50

Max: 70

Global

Craft Tags

resource

life
+(400–500)

to Accuracy against Bleeding Enemies
+(400–500)

to Accuracy against Bleeding Enemies
Group
IncreasedAccuracy
Domains
Item (1)
GenerationType
Unique (3)
Req. level
1
Stats
accuracy rating vs bleeding enemies

Min: 400

Max: 500

Global

Craft Tags

attack
Attacks always inflict Bleeding while you have Cat's Stealth
Attacks always inflict Bleeding while you have Cat's Stealth
Group
CatModifiers
Domains
Item (1)
GenerationType
Unique (3)
Req. level
1
Stats
attacks bleed on hit while you have cat stealth

Min: 1

Max: 1

Global

Craft Tags

bleed

physical

attack
(40–50)

% increased Damage with Hits and Ailments against Bleeding Enemies
(40–50)

% increased Damage with Hits and Ailments against Bleeding Enemies
Group
DamageAgainstBleedingEnemies
Domains
Item (1)
GenerationType
Unique (3)
Req. level
1
Stats
hit and ailment damage +% vs bleeding enemies

Min: 40

Max: 50

Global
You have Crimson Dance while you have Cat's Stealth
You have Crimson Dance while you have Cat's Stealth
Group
CatModifiers
Domains
Item (1)
GenerationType
Unique (3)
Req. level
1
Stats
gain crimson dance while you have cat stealth

Min: 1

Max: 1

Global

Craft Tags

physical_damage

bleed

physical

attack
---