Kongming's Stratagem
Shields
Chance to Block:
22
Energy Shield:
33
Movement Speed:
-3%
Requires Level
41
,
100
Int
(15–20)

% increased Spell Damage
Trigger Level

20

Fog of War when your Trap is triggered


+(20–30)

to Intelligence


(250–300)

% increased Energy Shield


(30–50)

% increased Fire Damage with Hits and Ailments against Blinded Enemies


(Ailments that deal Damage are Bleeding, Ignited, and Poisoned)




30

% reduced Spell Damage taken from Blinded Enemies
No Chance to Block
Those who are skilled in combat do not become angered.
Those who are skilled at winning do not become afraid.
Thus the wise win before they fight,
while the ignorant fight to win.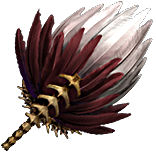 (15–20)

% increased Spell Damage
(15–20)

% increased Spell Damage
Group
SpellDamage
Domains
Item (1)
GenerationType
Unique (3)
Req. level
1
Stats
spell damage +%

Min: 15

Max: 20

Global

Craft Tags

caster

Adds Tags

has_caster_mod
Trigger Level

20

Fog of War when your Trap is triggered
Trigger Level

20

Fog of War when your Trap is triggered
Group
CreateSmokeCloudWhenTrapTriggered
Domains
Item (1)
GenerationType
Unique (3)
Req. level
1
Granted Skill
Fog of War
Creates a Smoke Cloud in an area, which blinds enemies within it.
CreateSmokeCloud (Level 20)
Cooldown: 1 Second
Base duration is

3

seconds
Trigger this Spell when one of your Traps is Triggered
Stats
local display trigger level x smoke cloud on trap triggered

Min: 20

Max: 20

Local
+(8–12)

to Intelligence
+(8–12)

to Intelligence
Name
of the Pupil
Group
Intelligence
Domains
Item (1)
GenerationType
Suffix (2)
Req. level
1
Stats
additional intelligence

Min: 8

Max: 12

Global

Spawn Tags

ring: 1000

amulet: 1000

helmet: 1000

int_armour: 1000

str_int_armour: 1000

dex_int_armour: 1000

str_dex_int_armour: 1000

wand: 1000

dagger: 1000

claw: 1000

staff: 1000

sceptre: 1000

default: 0

Craft Tags

attribute
(11–28)

% increased Energy Shield
(11–28)

% increased Energy Shield
Name
Protective
Group
DefencesPercent
Domains
Item (1)
GenerationType
Prefix (1)
Req. level
3 (Effective: 2)
Stats
local energy shield +%

Min: 11

Max: 28

Local

Spawn Tags

int_armour: 1000

default: 0

Craft Tags

defences
(30–50)

% increased Fire Damage with Hits and Ailments against Blinded Enemies
(30–50)

% increased Fire Damage with Hits and Ailments against Blinded Enemies
Group
FireDamageToBlindEnemies
Domains
Item (1)
GenerationType
Unique (3)
Req. level
1
Stats
fire damage +% to blinded enemies

Min: 30

Max: 50

Global

Craft Tags

elemental_damage

elemental

fire
30

% reduced Spell Damage taken from Blinded Enemies
30

% reduced Spell Damage taken from Blinded Enemies
Group
SpellDamageTakenFromBlindEnemies
Domains
Item (1)
GenerationType
Unique (3)
Req. level
1
Stats
spell damage taken +% from blinded enemies

Min: -30

Max: -30

Global

Craft Tags

caster
No Chance to Block
No Chance to Block
Group
LocalShieldHasNoBlockChance
Domains
Item (1)
GenerationType
Unique (3)
Req. level
1
Stats
local no block chance

Min: 1

Max: 1

Local
---